Admin Consultation Hours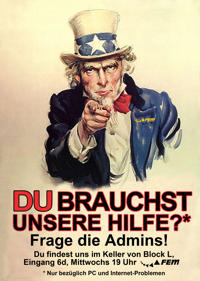 Due to the current development of the corona virus, there is currently no admin consultation hour. Please do not go to the office, there will be no admins anyway.
We also advise you to keep the personal contact to admins to a minimum. This includes only the submission of membership applications.
Everything else (device applications, problems with the internet and so on) can be handled via mail (to admin@fem.tu-ilmenau.de).
The Admins of FeM e.V.
If you want to contact an admin it is advised ti write an email to admin@fem.tu-ilmenau.de. You may also use our webform. This mailinglist is read by any admin and so we can answer you as fast as possible. It is not recommended to go to the FeM Office not during admin consultation hours, because most of the time there is no admin.
Die Admins der einzelnen Blöcke
Block A
KEIN ADMIN VORHANDEN
Block B
Saadman Abedin (01-11)
Block C
Fikayo Afowowe (02-22)
Block D
Xinyu Zhou (01-11)
Block E
KEIN ADMIN VORHANDEN
Block H
Hakeem Shaddoud (01-32)
Ahmad Asmandar (02-52)
Block I
Riccardo Dölle (04-62)
Block K
Richard 'Richi' Wollschläger ((2b-)02-22)
Jakob Lerch ((2a-)01-22)
Farid Novruzlu ((4b-)03-22)
Jago Bünder ((4a-)02-23)
Joel Tayo ((2c-)00-21)
Block L
Luca Dölle ((6a-)00-11)
Sebastian Speitel ((6d-)00-23)
Brice Yossa ((8c-)02-21)
Block N
Jennifer 'Jenny' Graul (03-05)
Adrian 'nex' Schollmeyer (05-13)
Amit 'Hrishee' Mane (04-05)
Block P
Franca Bittner ((03-)00-02)
Sylvain Wouatong Palo ((03-)02-03)
Block Q
Florian 'Flo' Rippstein (04-10)
Martin 'Rudi' Rudolph (04-10)
Midia 'Midji' Fiuza (01-07)
Van Giang Nguyen (02-07)
CJD
Zhansong Geng (202)
Paul Kucera (208)
ProPhiS
Henrik Dittmann (1a - 2.OG)
Johanna Radechovsky (1a - 2.OG)
Jan Lemmen (4a - 2.OG)
Chefadministratoren:
Henrik Dittmann
Sebastian Speitel