Membership fee rules
Unfortunatly, our membership fee rules is in cause of judicial reasons only available in german. If there are any questions, don't hestitate to ask your local administrator.
§1 Aufnahmegebühr
Der Aufnahmebeitrag beträgt einmalig 25,00 Euro. Er ist innerhalb von vier Wochen nach Bestätigung des Aufnahmeantrages zu zahlen.
Der Aufnahmebeitrag entfällt für Ehrenmitglieder.
§2 Jahresbeitrag
Der Mitgliedsbeitrag beträgt halbjährlich 40,00 Euro. Dieser ist zu den vom Vorstand festgelegten Terminen zu zahlen.
Bei der Aufnahmen in den Verein wird der Beitrag für den gesamten laufenden Berechnungszeitraum erhoben. In diesem Falle ist er für das laufende halbe Jahr innerhalb von vier Wochen nach Bestätigung des Aufnahmeantrages zu zahlen.
Der Mitgliedsbeitrag entfällt für aktive Mitglieder, ruhende Mitglieder, Veteranen und Ehrenmitglieder.
§3 Förderbeitrag
Der Förderbeitrag ist zu dem vom Vorstand festgelegten Terminen zu zahlen.
§4 Aufwandsentschädigung
Hat ein Mitglied in Ausübung seiner Vereinstätigkeit in Absprache mit dem Vorstand besondere finanzielle Aufwendungen, werden diese gegen Vorlage der entsprechenden Belege in voller Höhe zurückerstattet.
§5 Zahlungsmodalitäten
Der Vorstand legt die Termine für die Zahlung des Beitrages in den Zeitraum von zwei Wochen vor bis vier Wochen nach Beginn eines Semesters an der Technischen Universität Ilmenau. Alle Beiträge sind direkt zum bekanntgegebenen Termin ohne Abzug fällig.
Die Beiträge werden in der Regel im Lastschriftverfahren bzw. SEPA-Basislastschriftverfahren eingezogen. Bei bargeldlosem Zahlungsverkehr ist in jedem Fall die Mitgliedsnummer und der Verwendungszweck anzugeben. Vorhandene Belege sollten aufbewahrt werden.
Nicht eindeutig zuordnungsfähige Zahlungen werden als Spende betrachtet.
Im Falle von Rücklastschriften, die nicht auf einen Fehler des Vereins zurückzuführen sind, hat die FeM e. V. das Recht, von dem Mitglied die Erstattung der angefallenen Bankgebühren zu verlangen.
Pay membership fees in cash
It is also possible to pay the membership fee and the admission fee in cash. This is realised via the service Barzahlen.de.
To do this, go to http://myinfo/ from the FeM-Net. If there are debts on your account, you will be shown a section on barzahlen.de. Here you can generate your payment slip. Please excuse that we have to charge a fee for this kind of payment.
You do not need to print this payment slip, it is sufficient to have the barcode on your smartphone or to know the sequence of numbers.
At the moment (april 2018) you can pay your contribution at the following shops in Ilmenau:
Pay membership fees by bank transfer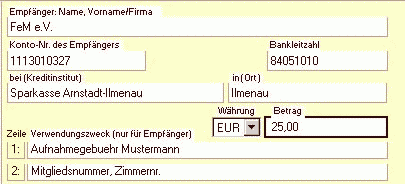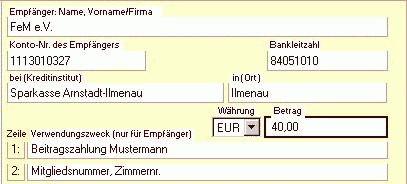 Please give your name and membership number on every bank transfer, so we can assign the transfer to you.
Bank account details
Account holder: Forschungsgemeinschaft elektronische Medien e.V.
Bank: Sparkasse Arnstadt-Ilmenau
BLZ (Germany only): 84051010
Account (Germany only): 1113010327
IBAN: DE15 8405 1010 1113 0103 27
BIC: HELADEF1ILK
Creditor Identifier (CI): DE49FEM00000204630